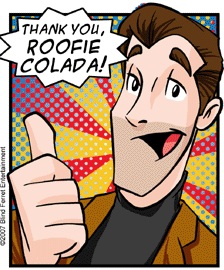 Write the first paragraph of your article here.
Biography
Edit
Noel is Rayne's best friend, who met him, along with most of the main cast, during high school. After graduation, Noel continued to hang out with Rayne and the cast until he met a gorgeous woman, whom he fell in love with. But rather than be with her, he decided to date her very overweight friend, which kept him from his friends for five years. Upon his return, he was readily welcomed back by Issa and Rob. Rayne however, wasn't so forgiving. This changed after Noel signed a contract allowing Rayne to make fun of his "love for large women" for an indefinite amount of time.Noel then took up the position of wingman for Rayne. Noel's nights out with Rayne slowed when he met a woman called Kate during a venture into Speed-Dating. They hit it off, then began dating, and eventually moved in together. Soon after, Noel explained to Rayne he was planning on asking his current girlfriend Kate to marry him, Rayne slapped him in disgust (showing his view towards monogamy). Noel promptly beat the living hell out of him, with Rayne returning the favor. They both wound up arrested, and, having got it out of their systems, Rayne congratulated him while they were both cuffed in the back of the police car and promised to help him prepare to propose. Subsequent strips showed Noel discussing ideas of proposing with Rayne, asking Kate's Father's permission for her hand, and ring shopping. After much preparation, Noel proposed to Kate with an elaborate set-up that involved Rayne posing as a cab driver. She accepted. Shortly before the engagement was confirmed, Rayne began bullying his friends into paying for a Caribbean cruise. It was recently revealed that this was not only intended as another cast vacation (with Mick and Noel's girlfriends attending), but also as the setting for Noel and Kate's wedding, (which ended with Rayne somehow getting a dolphin into the pool of the ship and giving it shots of Tequila)
Section heading
Edit
Write the second section of your article here. Don't forget to add a category, to help people find the article.